Author
Sharon Estill Taylor, Ph.D, an educator, speaker, and writer, is a former Associate Professor of Social Work and Psychology, and Women's Studies Chair at Saint Martin's University near Seattle. She also taught Social Work at Arizona State University and conducted intensive intersessions in Grief and Loss.
She is the daughter of a WW II fighter pilot shot down and killed at the end of the war who considers herself a late bloomer. Her aspiration as a girl was to become a foreign correspondent and live a life of endless adventure and travel. Some of that has actually happened. More is expected.
Dr. Taylor is a frequently invited presenter at professional conferences where she speaks about issues of grief and loss and the effects of war on children and families. A Spiegel TV documentary film, "A Love in the Time of War: the Last Flight of Lt. Estill", depicts her search for and recovery of her father's crash site in Germany. Her published ongoing research about father-loss in war informs much of her writing.
She is currently writing a memoir in the form of a tryptich while living in Arizona.
---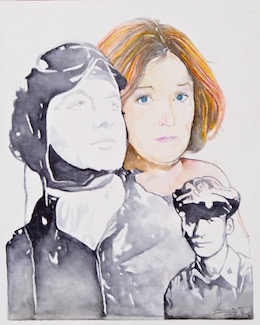 (Painting by James B. Hartel)